Welcome to Historic Northampton.
Historic Northampton exists to help all Northampton residents preserve and celebrate their history in ways that honor both tradition and change. We encourage a contemporary dialogue with people, ideas and objects from Northampton's past in order to better understand the present day. The society is located two blocks from downtown Northampton at 46 Bridge Street (Route 9).




Historic Northampton aims to provide programs through which
people can take an active part in preserving their history.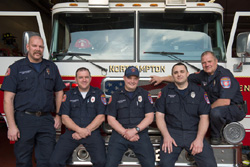 Photograph by Paul Griffin
Midnight to Midnight:
Northampton's Self-Portrait in 48 Hours

You make history daily. Midnight to Midnight is a photo documentation project designed to preserve a record of everyday life in Northampton, Florence and Leeds. Held in collaboration with Forbes Library and the Northampton Photography Group.

Learn more about Midnight to Midnight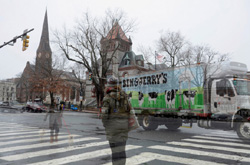 Main Street by Ellen Augarten
Contemporary Art at Historic Northampton

Contemporary Art at Historic Northampton exhibits the work of artists who draw on Northampton history for theme or inspiration. The exhibit series is a collaboration with the Northampton Center for the Arts and A.P.E. Gallery.

Learn more about the next exhibit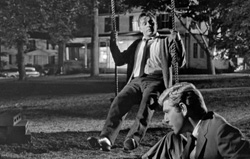 Who's Afraid of Virigina Wolff
Fast Forward Film Series

A Sunday afternoon film screening held once a month in fall and in spring. The Fast Forward Film Series invites a college professor of film, media or communications or an area filmmaker to curate a series of four Sunday afternoon film screenings, each followed by audience Q and A discussion afterwards.

Spring 2015 Fast Forward Film Series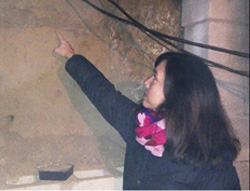 Archaeologist Linda Ziengenbein
Parsons House Archaeology Dig

In May and June 2015, Historic Northampton will conduct an archaeology dig at the 1719 Parsons House under the supervision of archaeologist Dr. Linda Ziegenbein. With donations secured from Valley Gives 2014, Historic Northampton is seeking grant funds to host a community archaeology dig involving local schoools.

More information coming soon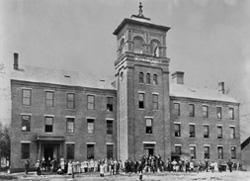 Florence Manufacturing Company
Exhibits from the Collection

The Damon Education Center features exhibits from the collection. Currently showing are two exhibits: Tools for Learning: Children's Toys, Clothing and Furniture from the Historic Northampton Collection and The Florence Brush Factory: Artifacts from the Pro Brush Company Collection, 1854-1945

Learn more about current exhibits



Guest Speakers and Public Talks

Historic Northampton hosts a variety of public talks and book events. See the calendar of events to learn more about upcoming programs.

Calendar of Events




Historic Northampton Hours

Exhibitions & Museum Store
Wednesday
10 am to 4 pm
Thursday
10 am to 4 pm
Friday
10 am to 4 pm
Saturday
10 am to 4 pm
Sunday
12 noon to 5 pm
Historic Northampton is closed on holidays
Snow Closing Policy

Please call the office at 413-584-6011 during open hours to determine if the museum is open during inclement winter weather.


Research
Researchers are welcome by appointment only. To schedule an appointment, call the office at 413-584-6011 or email mailbox@historic-northampton.org.

Directions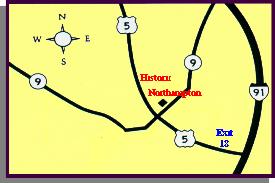 Historic Northampton is located in downtown Northampton at 46 Bridge Street (Rt. 9). Take I-91 to Exit 18, left onto Rt. 5 (Pleasant Street), continue until main intersection, turn right on Main Street (Rt. 9), continue under railroad bridge, through the light. The museum is on left, across from the Northampton Post Office and next door to Different Drummer kitchen store. A parking lot is located behind the Shepherd Barn. Northampton is served by Peter Pan Bus Lines and Amtrak and the Pioneer Valley Transit Authority. Historic Northampton is located one block from the Northampton Bike Path's bridge over lower Main Street.

Contact Information

Historic Northampton
46 Bridge Street
Northampton, MA 01060
mailbox@historic-northampton.org
413-584-6011

The Northampton Historical Society was incorporated in 1905 as a non-profit organization, independent of city government. In 1989, the society began doing business as Historic Northampton to avoid confusion with the Northampton Historical Comission, a separate committee which oversees historic preservation issues for the city. In 2012, the organization's legal name was changed to Historic Northampton. Historic Northampton is governed by a board of trustees.

Staff
Nancy Rexford, Acting Director
nrexford@historic-northampton.org
Marie Panik, Museum Manager
mailbox@historic-northampton.org
Mary La Liberte, Gallery Attendant
mailbox@historic-northampton.org
Kiki Smith, President
Stan Sherer, Vice-President
Nancy Rexford, Treasurer
Michael Thurston, Clerk
Barbara B. Blumenthal
Craig Della Penna
Kim Graham
Julia Mines
W. Michael Ryan
Steve Strimer
Nan Wolverton