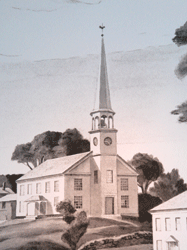 Saturday, October 3, 2009
Walking Tour, Bridge Street Cemetery, 10 am
Reading, First Churches, 129 Main Street, 7 pm
Free
Jonathan Edwards, widely considered to be America's most brilliant theologian, was minister at what is now First Churches in Northampton from 1727 to 1750.  The spiritual and intellectual richness of Edwards' inner world is matched by the dramatic events of his life, including the ambiguities in his role as a slave owner.
Susan Stinson is the award-winning author of three previous novels and a collection of poetry and lyric essays.  She has received awards and grants from the Lambda Literary Foundation, the Deming Fund, the Wurlitzer Foundation, the Millay Colony, and the Blue Mountain Center, among others.  She's been at work on Spider in a Tree, her novel about Jonathan Edwards, for seven years.  She lives in Northampton.
For the cemetery tour, go to the Parsons Street entrance of the Bridge Street Cemetery in Northampton, and look for the red trike with the Jonathan Edwards tour sign.
Sponsored by Forbes Library