Sylvester Graham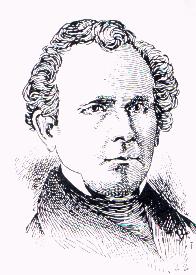 Sylvester Graham was born in West Suffield, Connecticut. He first hoped to become a minister, but after a year of study at Amherst College, he left to devote himself to the temperence movement and to promote his own physiological theory which he called "The Science of Human Life." Graham proposed that a strict dietary regimen, primarily vegeterian, would combat the desire for alcohol and sex, both of which Graham considered to be unhealthy.
Decrying an increasing dependence on commercially baked bread which he considered to be unwholesome and unnatural, he recommended bread made with unbolted wheat flour, now known as graham flour. A Northampton newspaper in 1851 referred to him as "Dr. Bran, the philosopher of sawdust pudding." However, he had many followers who called themselves Grahamites, including Horace Greeley. The graham cracker is named for Sylvester Graham, though it bears no resemblance to the bread he promoted.
Graham died at the age of 57 and is buried in the Bridge Street Cemetery. His house at 111 North Pleasant Street is now Sylvester's Restaurant.