Caleb Strong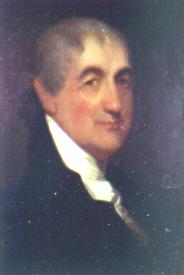 Caleb Strong, Jr. served as a delegate to the Constitutional Convention in Philadelphia, as one of the first U.S. Senators from Massachusetts, and as the Governor of the Commonwealth for eleven terms. Characterized as a man of integrity, simplicity, and dignity, he was greatly beloved by his townspeople who considered him Northampton's "First Citizen."
Strong was born in Northampton in 1745, the only son of Lt. Caleb Strong and Phebe Lyman Strong. Caleb's ancestor, the Elder John Strong, who settled in Northampton in 1659, established a tannery and became a leading man in the affairs of the town and of the church. The Strong tannery was inherited by Caleb's father who was among the leading taxpayers in town. In 1748 he was living in a new house, the first in town with a gambrel roof.
Caleb Strong graduated from Harvard College in 1764, studied law with the eminent Judge Joseph Hawley, and opened a practice in 1772. Strong was a successful lawyer and only four years later was appointed county attorney, a post he held until 1800. Strong began his political career in 1776 when he was elected a member of the State House of Representatives. The following year he married Sarah Hooker, the niece of John Worthington of Springfield, and sister of John Hooker, both of whom later became Proprietors of the Locks and Canals.
In 1787, Strong was a delegate to the Constitutional Convention in Philadelphia and the following year was elected one of the first U.S. Senators from Massachusetts, serving until he resigned in 1796. While a Senator, Strong was an incorporator of both the Proprietors of Locks and Canals and the Third Massachusetts Turnpike which was chartered to build a road from Northampton to Pittsfield. Strong also took an interest in several societies and was president of the Hampshire Missionary Society and the Hampshire Bible Society, one of the founders of the Academy of Arts and Sciences, and a member of the Massachusetts Historical Society.
Strong served eleven terms as Governor of Massachusetts from 1800 to 1807 and from 1812 to 1816 when he retired from politics and returned to Northampton. He was a delegate to the Hartford Convention and his moderate influence was important when his faction succeeded in defeating the radical Federalists who wished New England to secede from the Union.
Governor Strong was regarded as a man of gentle spirit, simple tastes and manners, frugal, modest, prudent, dignified and discreet. He was so much revered by his constituency that not one single vote was cast against him in Northampton and thirty surrounding communities when he was elected Governor for the first time. At this death in 1819, he was eulogized as a man "who has been through the course of a long life alike distinguished for his private virtues and public service, and whose memory a grateful public will ever delight to honor."