Sojourner Truth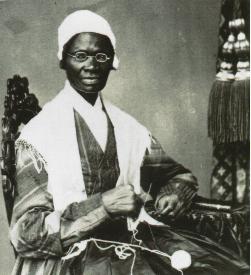 O' God, thou art my last master, and thy name is Truth, So shall Truth be my abiding name until I die.
Sojourner Truth, born Isabella, was a former slave who claimed the right to name herself, along with her freedom. At a time in the nineteenth century when a forceful women's voice was rarely heard in public, Truth, lacking formal education, but endowed with a sharp wit and an unadorned but powerful eloquence, spoke with authority and conviction to audiences across the northeast and Midwest.
Truth came to Northampton in 1843 to join the Northampton Association for Education and Industry - a utopian, abolitionist community organized around a communally operated silk factory in what is now Florence. Though living conditions at the Northampton Association were spartan, no other place, Truth later recalled, offered her the same "equality of feeling," "liberty of thought and speech," and "largeness of soul." It was in Northampton that Truth came into contact with abolitionists William Lloyd Garrison, Frederick Douglass and Wendell Phillips. Through them and other members of the Association, Truth was introduced to a wider world of nineteenth century reform. Thereafter, Truth would become well known not only in anti-slavery circles, but in the women's rights and temperance movements as well.
Also see An Abolitionist Utopia: Northampton Association of Education and Industry (1842-1846).