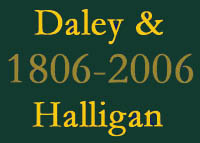 The Daley & Halligan Bicentennial Commemoration
This site commemorates the bicentennial of a dark chapter in Northampton history- an event that illuminates a period in our nation's history in which the stranger at our gates was regarded with fear and suspicion. Original court documents and manuscripts relating to the 1806 Daley and Halligan trial along with secondary articles have been compiled so that the historical record can be reconstructed from the original sources. This site also provides links to additional resources and will keep an up to date schedule of events for programs related to the Daley and Halligan Bicentennial Celebration.

Click, here or at left for original documents, a bibliography of related subjects, a schedule of Bicentennial events, and links to related sites.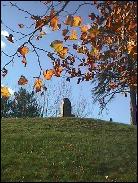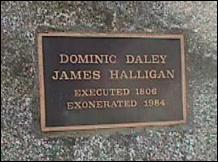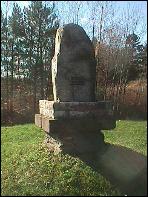 Daley and Halligan memorial stone, near Hospital Hill, Northampton, MA
Orators.are usually flattered by having a numerous audience, but I am ashamed of the one before me.. Are there men to whom, the death of their fellow beings is a spectacle of pleasure, an object of curiosity? .. But you, especially, O women! What has induced you to come to this place? Is it to wipe away the cold damps of death that trickle down the face of these unfortunate men?..No, it is not for this. Is it then to behold their anguish, and to look upon it with tearless, eager and longing eyes? Oh! I blush for you, your eyes are full of murder!
So preached Father Jean Lefebvre de Cheverus, a Catholic priest, at the request of Dominic Daley, 34, and James Halligan, 27, in a sermon delivered before their execution in Northampton on June 5, 1806, for a murder they did not commit.
While traveling from Boston to New Haven, Daley and Halligan were arrested on November 12, 1805, after the body of Marcus Lyon was discovered on Wilbraham. Accused of murder, they were incarcerated in Northampton while their captor received a $500 reward. Although the Commonwealth spent five months preparing its case, Daley and Halligan were assigned defense attorneys just 48 hours before the trial.
Defense attorney Francis Blake of Worcester expressed outrage that Daley and Halligan were arrested due to ethnic and religious bigotry: "When a crime of unexampled atrocity is perpetuated among us we look for an Irishman.." The jury deliberated only a few minutes before pronouncing a guilty verdict on the same evening the trial began. Sentenced to be hanged, Daley and Halligan appealed to Father Cheverus in Boston to preach the sermon prior to their execution.
Denied lodging at the Tavern of Ashel Pomeroy, Father Chevrus stayed with Jonas Clark, who suffered reprisals from his fellow citizens. At the jail cell of Daley and Halligan, Father Cheverus celebrated the first Mass in Northampton. Some estimated 15,000 people came to Northampton to view the execution.
On St. Patrick's Day, 1984, Gov. Michael Dukakis issued a proclamation exonerating Daley and Halligan.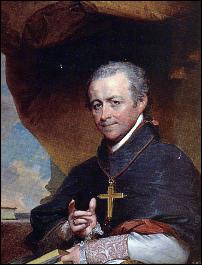 Father Jean Cheverus
Portrait by Gilbert Stuart, 1823
A Message from the Hon. W. Michael Ryan
So many visitors flocked to Northampton for the April 1806 sitting of the Supreme Judicial Court that the proceedings were moved up Main Street to the First Church. Two Irish born transients were tried for the highway robbery and murder of a young farmer, Marcus Lyon, the previous November in Wilbraham.
The evidence was sparse, circumstantial, contrived, and perjurious. Under today's standards the Commonwealth could not have secured an indictment, let alone a conviction, on such proof. The government's basic contention - that two middle-aged, peaceful men with no previous records of crime or violence, on a public highway one hundred miles from familiar places and sympathetic friends, robbed and killed a young, robust migrant farmer for the few dollars he might possess - was preposterous, fantastic, and incredulous on its face.
Yet in 1806, in Massachusetts, fear of foreigners and prejudice towards Irish Catholics so poisoned the proceedings that the men were convicted. The sentence, death by public hanging, was solemnly imposed by the stern, unflinching magistrate.
On June 5, 1806, sustained by their faith and succored by the first Catholic priest to visit Northampton, Dominic Daley and James Halligan stood on the gallows constructed on Pancake Plain in front of a crowd of 15,000. Addressing the mob that came to watch them die, they forgave their accusers and prosecutors, asked God's mercy for their other sins, and accepted death with courage and calm.

Through the years, many people in the Greater Northampton Community have helped preserve this memory. It seems fitting that on the 200th Anniversary of the tragedy, these martyrs be remembered with a commemoration that will honor their character, acknowledge the injustice they suffered, and increase community awareness of the consequences of allowing prejudice, bigotry, and racial animosity to influence individual thought, social behavior, and government action. Towards these goals, this website is presented. - The Honorable W. Michael Ryan, November 20, 2005
Daley & Halligan Bicentennial Committee

Mike Ahearn, Professor Alice Hearst, Andrienne Clark, James Camposeo, Beth Connly, Bill Newman, Bill Larkin, Sheriff Robert Garvey, Bob Foote, Bill O'Riordan, Brigid O'Riordan, Charles Maguire, Mike Cahillane, Christine Cahillane, Dave Shea, Register David Sullivan, Nancy Sullivan, Ed McColgan, Evie McCoy, Gail Deady, Dr. George Snook, W. Griff, John Sheehan, Kay Sheehan, Kerry Buckley, Linda Desmond, Luke Ryan, Mary Ford, Hon. Michael Ponsor, Olwen Dowling, Peggy Duggan, Hon. W. Michael Ryan, Hon.Clare Higgins, Paul Diemand, Mike Flynn, Joan Finn, Pat Goggins, State Representative Peter Kocot, Shauneen Kocot, Allison Lockwood, Josie Hebert, William O'Connor, Will Pugliese, Michael Shaughnessy, Terrance Bresnahan, Mark Power, Ralph Sargent, Jean M. Bryant, Maureen Sheehan, Robert Kelley