Northampton-New Haven Canal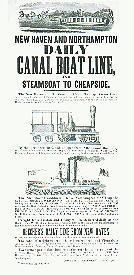 The success of the Erie canal fired the imagination of local investors. They imagined a canal that would connect Northampton directly to the seaport of New Haven, avoiding the falls and rapids of the Connecticut River. Begun in 1822 and completed in 1835, the canal was ill-fated from the start. Delays plagued construction, and the enterprise was never profitable. Although the canal was in service until 1847, it could not compete with the technological revolution of the railroad, which came to Northampton in 1845. Today, most evidence of the canal in Northampton has been eradicated. The canal ran along what is now State Street toward the Connecticut River. The Mansion House, a four-story hotel and depot was built by Isaac Damon to serve the needs of the expected influx of travelers. It stood on what is now the site of St. Mary's church rectory.
Visit our Gift Shop to purchase a copy of the canal map by Carl E. Walter.