The First Church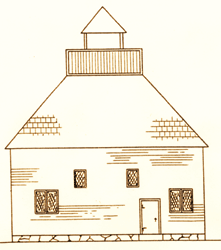 Northampton's 2nd Meeting House, c. 1661
The Puritan settlers of Northampton built their first meeting house in 1655 on a site near the present-day Courthouse. Eleazar Mather, cousin of Boston's Cotton Mather, became the town's first minister in 1658. A new meeting house was built further up what came to be known as "Meeting House Hill" in 1661. When Mather died eight years later, Solomon Stoddard was called to take the pulpit.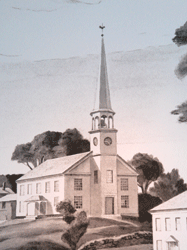 The 3rd Meeting House, built by Jonathan Edwards in 1737
Stoddard preached his first sermon in Northampton in 1669. From then until his death sixty years later in 1729, he maintained a position of influence that went far beyond the boundaries of Hampshire County. His doctrine of the "Halfway Covenant" left a lasting imprint on New England Puritanism. Stoddard's hand-picked successor to succeed him in the Northampton pulpit was none other than his grandson, Jonathan Edwards.
During Edward's ministry, the third meeting house was built in 1737. It was here that the evangelist, George Whitfield, preached in 1740, sparking the Great Awakening that Edwards reported in his widely published "Faithful Narrative.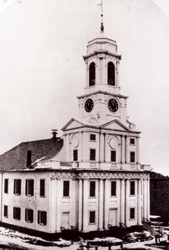 The "Old Church" built by Isaac Damon in 1813
In 1812, the church that Jonathan Edwards built was replaced by a classical revival structure designed by Asher Benjamin and built by Northampton architect, Isaac Damon. With a seating capacity of over 1,000, the church also provided a setting for more secular occasions. It was here that Jenny Lind thrilled audiences in the 1850s. Dominating Main Street for more that half a century, the "Old Church" burned to the ground in 1876.
The present church, built in 1877, is the 5th meeting house to occupy the site. Designed by the Boston Architectural firm of Peabody and Stearns, its gothic revival sandstone exterior is complemented by the rich Victorian interior lit by several Tiffany windows.