Bridge Street Cemetery Virtual Tour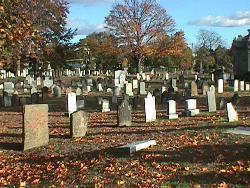 Go where the ancient pathway guides,
See where our sires laid down
The patriarchs of the town;
Hast thou a tear for buried love?
A sigh for transient power?
All that a century left above?
Go, read it in an hour.
-Holmes
Bridge Street Cemetery was established in Northampton in 1663. After the town voted that no more burials should take place next to the Meetinghouse, a portion of a ten acre lot on the far edge of town, known as the "minister's lott" at Pine Plain, was allocated for use as a burial ground. In 1680, the bodies of those previously buried were moved to Bridge Street Cemetery. Today, the cemetery encompasses approximately 20 acres. It is an active non-denominational city cemetery.

View Plot Map (requires membership subscription)

Materials for this site were compiled by Judith Owen, Susanna Morgan, Allison Schofield and Rebecca Ames; all students at Smith College.
17th Century Gravestones
18th Century Gravestones
19th Century Gravestones
20th Century Gravestones