Florence Manufacturing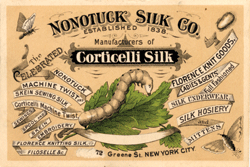 Nonotuck Silk Company Tradecard
Florence, or Broughton's Meadow as it was originally called, was one of America's early manufacturing centers. 1n 1837, Samuel Whitmarsh established the area's first silk mill along the Mill River. Importing silk worms fed on homegrown mulberry leaves, Whitmarsh hoped to manufacture fabric and ribbons from domestically produced silk. The Northampton Association of Education and Industry, the anti-slavery utopian community, bought the factory in 1842. By 1846, the community was facing financial difficulties. One of the founders of the Association, Samuel Hill, bought out the enterprise, which eventually became the Nonotuck Silk Company, producing the nationally famous Corticelli brand until it closed in 1932.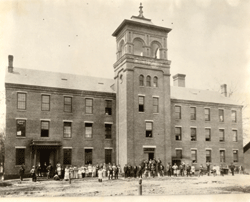 The Florence Manufacturing Company c. 1890s, later known as the Pro Brush Corporation
The American plastics industry began in Florence in 1843 when A.P. Critchlow experimented with a new substance called Florence Compound - a crude, brittle plastic made from resin, wood fibers and shellac from which he manufactured buttons, jewelry cases, revolver handles and, its most successful product, daguerreotype cases. By 1885, the company produced the first commercially successful toothbrush, changing its name to the Pro-Phy-Lac-Tic Brush Company in 1924.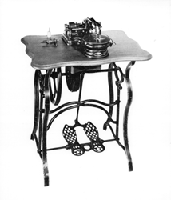 One of the first commercially successful sewing machines was produced in Florence

The Pro Brush Company, as it became known, diversified, manufacturing a vast array of plastic products, including Top Secret atomic bomb parts for the Manhattan Project during World War II.

Just prior to the Civil War, Leander Langdon invented and patented a sewing machine. Just five years later, the Florence Sewing Machine Company produced 20,000 sewing machines a year. By the 1870s, it was also producing stoves, becoming the Florence Machine Company. Its brick factory buildings along Florence's Main Street now house professional offices and shops.