The Manse
(Private Residence, Not Open to the Public)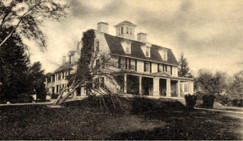 The Manse as it appeared in the 1930s.
The original structure on this site was built by Rev. Solomon Stoddard in 1684. The property initially included most of the land on the southeasterly side of Round Hill. Stoddard was called to Northampton in 1669 to become its 2nd Minister. He became widely known for his adoption of the "half Way Covenant" by which the Puritan church retained its declining influence by modifying conditions for membership. Stoddard's grandson, Jonathan Edwards, succeeded him to Northampton's pulpit in 1729. It was here that Edwards stayed when he first came to Northampton. Edwards, a speculative thinker and theologian, sparked the Great Awakening in the 1740s through the vivid images of his preaching.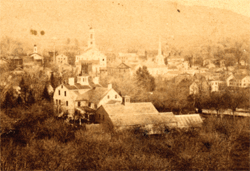 View of the Manse from Round Hill, about 1860.
Colonel John Stoddard inherited the house from his father, Solomon. He was an influential member of the General Court and was instrumental in negotiating the return of the captives taken to Canada after the Deerfield Massacre of 1704. For generations, the Stoddards maintained their prominent position among the great Connecticut Valley families known as "The River Gods."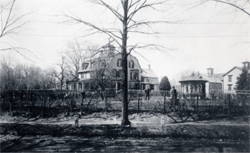 The Manse around 1900.

In 1737, Colonel Stoddard built the structure that remains today. Its multiple stories, classical pediments and gambrel roof reflected the latest fashion in colonial architecture. The cupola was added in the mid-nineteenth century. The Manse passed out of the Stoddard family in 1812. It is listed in the National Register of Historic Places.