The Old Bank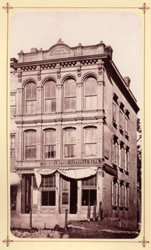 The Northampton National Bank as it appeared in the 19th century
On the corner across Center Street, at 135 Main, stands the Old Bank, designed by William Fenno Pratt and built in 1866. Its cast iron front was a modern innovation at the time. It was here that the largest bank robbery in the history of the United States took place on the morning of January 26, 1876. Having staked out the bank for weeks, the so-called Rufus Gang made off with more than $1.6 million in cash and securities, exceeding, by today's standards, the Brink's heist and the Great Train Robbery. Equipped with the latest technology, the bank vault was thought to be impervious to thieves, but a band of seven New Yorkers had the help of the very man who had installed the safe. The Pinkerton Detective Agency eventually apprehended two of the robbers. The rest were never charged.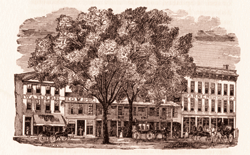 The Warner House was strategically located at the midpoint of the Boston and Albany stage route.
Beyond the Old Bank, at 175 Main, is the site of the Warner House tavern. Built by Asahel Pomeroy in 1792, it was purchased by Oliver Warner in 1821 and became a celebrated stop on the Boston and Albany stage route. With the blast of a trumpet, the stage would announce its arrival, then all would be bustle until a cloud of dust, as it departed, signaled a return to tranquility. It was here that the Marquis de Lafayette was welcomed and entertained in 1825.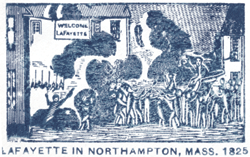 General Lafayette was welcomed at the Warner House in 1825.
Having driven through the town in an open carriage, General Lafayette addressed the assembled citizens of Northampton from the Warner House balcony. By the 1840s hotels expanded to accommodate the steady stream of travelers who arrived on the newly built railroad. When the Warner House burned in 1870, it was replaced by the Fitch House, which later became the Draper Hotel. One can still observe the monogram "F" on the façade of the remaining wing of the building.