Northampton Architecture- Quadrant 3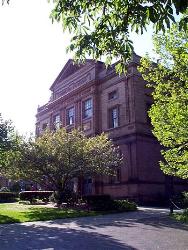 Academy of Music
The Academy of Music, located at 260 Main Street, was built in 1891. The style of architecture is Neo-Classical, and the architect is William Brockelsby.
The Academy of Music was the first municipal theatre in the United States. Edward H. R. Lyman granted the theatre to the city in 1891. Both locals and visitors regularly presented outstanding lectures and performed concerts, operas and dramas in the spacious hall. In 1912, a stock company began the presentation of a different play each week. This municipal theatre company, the very first of its kind in the United States, achieved national fame; William Powell and James Rennie were among the well-known members.
The Academy of Music represents a new style of architecture introduced to the U. S. by the architectural firm of McKim, Meade and White, based on the rich brick and terra cotta architecture of late 15th and early 16th century Italy.
A pediment resting on lavishly ornamented pilasters crowns the building's two-story fašade; the intricate cast terra cotta trim is the same warm and tawny tone as the brick. The Academy is also a fine example of Victorian rationalism, as its exterior is structured to reveal the different spaces within. The entrance and the first side sections, or "bays", of the building are constructed with golden Roman brick and accented with generous terra cotta trim. The next segment, clearly the main body structure of the theatre, has less ornamentation and introduces a less expensive, dark red brick. The back, stage-house section of the building is comprised of red brick, and is embellished only with iron fire escapes.