Northampton Architecture- Quadrant 4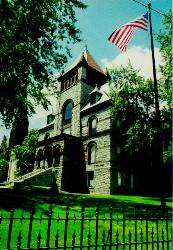 Hampshire County Courthouse
The County Courthouse, located on Main and King Streets, was built between 1884 & 1886. Architect Henry F. Kilbourn built the structure in Richardsonian Romanesque style.
The Hampshire County Courthouse bears a strong resemblance to H.H. Richardson's Hampden County Courthouse, constructed a decade earlier. Rock-faced granite and smooth brownstone provide contrast in color and texture. The rugged massing and low round arches over the windows and portico suggest Richardson's influence on the architect. Dark stringcourses link the window arches to provide a horizontal emphasis that balances the strong vertical line of the central tower. A deep tile roof with metal cresting and diminutive dormers crowns the building.
The first courthouse was built on this site in 1739. Court sessions took place here every other year in alternation with Springfield, and later, with part of Hampshire County. The building was replaced in 1767 by a courthouse on the west portion of the lot. In 1786, Shay's Rebellion saw its first action here when armed countrymen prevented the court from convening and passing further pay-or-jail judgments. Isaac Damon designed the plans for a new house that was erected in 1812 and leveled by fire in 1886. Luckily, the Paul Revere bell was saved from demolition; it is now on display in the present courthouse.