Northampton Architecture- Quadrant 4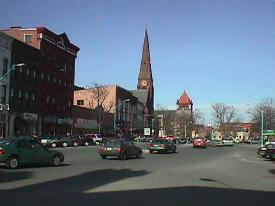 Main Street-Northeast
The O'Brien Block was one of the first brick blocks to rise on the north side of Main Street in response to rapid commercial development in the late 1860's. Small pediments top the windows of the upper story and a brickwork cornice decorated the roofline. Iron columns define the retail space on the ground floor. The O'Brien Block is quite similar to the Rust Block across the lane, and may be the work of W. F. Pratt. Pratt's name is not, however, mentioned in connection with the construction or design of the O'Brien Block. The window pediments of the O'Brien Block are a bit more ambitious than those of the 1867 Rust Block; but they do resemble the pediments of Pratt's 1871 Wright Block. Details such as the fine brick "lace" at the cornice line are present in each.
The adjoining commercial blocks, similar in appearance, were completed during the period of expansion of the business community in Northampton. 189-191 Main Street, built in 1871, abuts the Old Fitch Hotel block to the east, and, like the hotel, replaced a building destroyed by the fire of 1870. The two buildings of this commercial block stand three stories high and four bays wide. First story windows have flat brownstone arches; second story windows have segmental keystoned arches. The buildings are capped with a brickwork cornice, common to other downtown commercial structures.
J.M. Miner planned a group of buildings, The Fitch Hotel and two hotel blocks, to replace the burned-down Warner House. Today, only the westernmost block, of the Old Draper Hotel, remains. It is composed of segmental brownstone window arches, quoining at the corners, and brick dentils beneath the iron cornice. The letter "F" appears, grandly stamped in the center of the roof pediment. The westerly block, built in 1868, was constructed on the old Lyman homestead. The buildings here are nearly identical to the structures of their neighboring block, described above.
The "Serio Block," 147-149 Main Street, was renovated in 1870. The architect, unknown, designed an addition to the original brick structure in "Victorian Commercial" style. The Serio block is one in a series of uniform commercial structures lining Main Street. Originally a two story building, the Serio Block was renovated during the period of downtown expansion (1870). The addition of one story and the present cornice enlarged and modernized the structure.