Northampton Architecture- Quadrant 3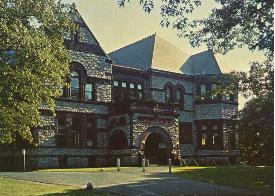 Forbes Library
Forbes Library, located on West Street, was built in 1894. Architect William C. Brockelsby designed the building in Richardsonian style.
Two years prior to designing the Richardsonian style library, William Brockelsby completed the Academy of Music in a Classical Revival style. Hartford-based Brockelsby also accepted a number of commissions from Smith College; it is he who designed Lilly Hall, the Alumni Gym, and several other utilitarian structures.
Forbes Library, while internally attractive and well organized, is without the coherent massing displayed by the Academy and Smith College designs. The Richardsonian preference for asymmetry, horizontality, and massive effects in this case result in the structure's lack of elegance. However, the library proves to be a good example of Richardsonian style, with its polychromatic, rough faced gray and brown stone, delineated window openings, and low central arch.