The Nathaniel Parsons House, 1719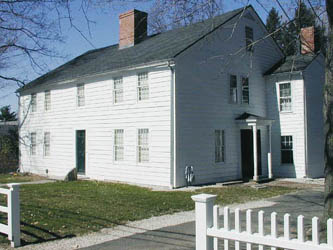 Click here for a virtual tour of the Parsons House
The Nathaniel Parsons House stands on its original site on the eastern section of the homelot granted to Joseph and Mary Bliss Parsons circa 1654. The house was framed in 1719 with construction continuing on for a year or two, according to pitch pine dendrochronology research conducted in May 2003. The earliest section of the house is a 2 ½-story wood frame house with a center brick chimney. The house was expanded and remodeled in several stages in the late eighteenth and early nineteenth centuries. Nathaniel Parsons (1686-1738), a grandson of Cornet Joseph and Mary Bliss Parsons, owned the property from 1709 until 1738 and is believed to be the original owner of the house. In 1941, Anna Catherine Bliss, with the consent of her brother, Edgar Sumner Bliss, donated the house to the Northampton Historical Society. It is currently closed to the public pending renovations funded by the Community Preservation Act.
Virtual Tour of the Parsons House

Architectural Studies of the Parsons House

Report on the Building Archeology

A report on the architectural examination of the Parsons House prepared by Gregory Clancey, Architectural Conservator, Society for the Preservation of New England Antiquities and John Leeke, Preservation Consultant in Private Practice, 1992, 147 pages.

Poking Into the Past (large PDF file)

An article by John Leeke on the Parsons House parlor from Old-House Journal, July – August 1994, pages 44–49.

Chronological History of the Ownership of the Parsons House/Property

Probate Inventory of Nathaniel Parsons (typewritten transcript by Gerald James Parsons)

Parsons Family Research Resources at Historic Northampton

The Goody Parsons Witchcraft Case: A Journey to 17th Century Northampton

The Parsons Family Association

Visit http://parsonsfamilyassn.org to learn more about the Parsons Family Association.

Cornet's Chronicle, Spring 2014 - the Parsons Family association newsletter

Visit http://www.pfawr.org to access the Parsons Family Association Western Region website.