Every Careful Person Should Know:
Advertising Strategies of the Pro-Brush Corporation, 1886-1930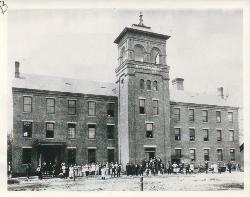 Researched and Written by John Erhardt
A good advertising campaign is one that promotes consumer awareness and sells a product. A great advertising campaign is one that promotes awareness and sells a product that nobody knew they needed. The Pro-phy-lac-tic tooth brush was such a product.
The Pro-Brush Company can trace its roots as far back as 1843, when Englishman Albert Critchlow, a horn button maker, moved to Haydenville, Massachusetts. His small company changed owners and partners several times before becoming the Florence Manufacturing Company in 1866. The company was experimenting with a new substance they called Florence Compound which was a crude, brittle plastic made from resin, wood fibers and shellac. This early plastic was used in manufacturing buttons, jewelry cases, revolver cases and, its most successful products, daguerreotype cases.
Daguerreotype cases were ornately carved, hinged, and lined with satin. But it wasn't long before the photograph made the daguerreotype obsolete. With their business being threatened, the men of the Florence Manufacturing Company had to develop a new product for their Florence Compound. After several failures, one man took a daguerreotype case, affixed a handle and attached bristles to one side; a hair brush resulted, and the men entered the brush business.
They created hair brushes, hand brushes, military brushes, lather brushes and toilet brushes. In 1884 they entered the tooth brush business after a correspondence with New York dentist Dr. Meyer Rhein.
Early tooth brushes were made of bone, and the holes for the bristles were hand-punched by a man at a drill-press. The Florence Manufacturing Company improved its plastic and, with the advancements of the Industrial Revolution, became able to mass-produce their product.
The development of the toothbrush can be witnessed through a study of the advertisements used to promote it. While we may not think the toothbrush is a very controversial or unacceptable product, we must remember that Ninteenth Century America was still relying on the toothpick as its primary vehicle for personal dental hygiene. Dentistry itself was also still developing: in 1886, there were only ten Dental colleges in America.
The Florence Manufacturing Company changed its name in 1924 to the Pro-phy-lac-tic Brush Company, taking the name from their most successful product. They became known as Pro-Brush for short. Throughout this exhibit, the name Pro-Brush will be used due to space restraints. The reader is advised that the use of Pro-Brush is not historically accurate when referring to the pre-1924 company.